You desire increased efficiency in all the transactions at your points of sale.
We give you a tool that; decreases checkout time at your cashier points, is easy to use, promotes excellent inventory management, reporting of cash transactions, and expands your payment capabilities. Our PoS machines give you the power to manage and accurately track all the transactions at all your cashpoints.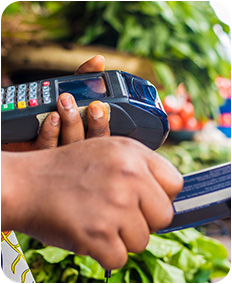 Acceptable Cards


Mastercard


Verve


Visa
(Issued in Nigeria
or Abroad)
---
FEATURES
Chip and PIN enabled (EMV Compliant)
Uses GPRS, CDMA, or LAN/Wi-Fi network connectivity
T+1 Merchant settlement (next working day)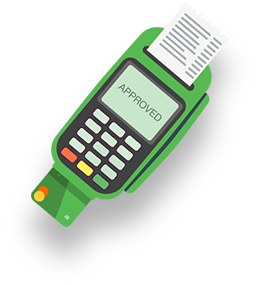 BENEFITS
PoS terminals and peripherals are free.
Alternative means of accepting payment from customers
Direct and automated credit of all acquired transactions to the bank account
Eliminates the cost and security risk associated with handling cash
Transaction security is assured.
Transaction statements/history can be requested for each PoS terminal.
Eliminates cash counting and cash movements
Eases merchant reconciliation at the end of the business day.
 HOW TO GET STARTED
Complete a merchant application form at any of our Experience Centres OR make a request through you Relationship Manager.

Execute an indemnity/liability agreement.

The PoS terminal is usually deployed within 3-5 working days.
Heritage Bank POS FAQ
Do the Heritage Bank PoS terminals accept all cards?
Yes. All cards issued in Nigeria are accepted and foreign cards can be enabled based on request.
Do I need to have an account with Heritage Bank to own a PoS terminal?
Yes. You need an individual or corporate current account
How much does it cost to acquire the Heritage Bank PoS terminal?
The PoS terminal is FREE.
How can I request for a PoS terminal and how long would it take for me to receive it.
You can request for a PoS terminal through any of our contact channels:
Contact centre: 0700HERITAGE, 01-2369000.
Your relationship manager
It takes 3 days within Lagos and 5 days for upcountry requests. (Bullet point included)
How do I set up my PoS terminal?
The PoS terminal is setup before it is deployed to you.
Who do I contact when I have issues with my PoS terminal?
Please send a mail to info@hbng.com or call 0700HERITAGE.
Alternatively, you can call the number on the PoS sticker.
How do I request for receipt rolls?
Please send a mail to info@hbng.com or call 0700HERITAGE.
Alternatively, you can call the number on the PoS sticker.
How do I know a successful transaction has taken place?
A successful transaction takes place when the terminal prints out "transaction approved" on both customer and merchant receipts.
How long does it take for my PoS transactions to be credited to my account?
Transactions are credited by close of business of the next working day.
What do I do if my customer claims to have been debited for an unsuccessful transaction?
Do not release goods or offer services for such a transaction; there may be an automatic reversal of the transaction. Furthermore, the cardholder should visit his bank to lodge the complaint on dispense error.
What do I need to do when my customer transaction is declined/unsuccessful?
This could be due to a temporary network downtime. Please advise the cardholder to try again.
What does the error message "ISSUER OR SWITCH INOPERATIVE" mean?
The cardholder's bank or the switch that processes the card is having a system downtime. The cardholder/merchant may be advised to use another bank's card or attempt another transaction after a little while.
What does "EXCEEDS WITHDRAWAL LIMIT OR INSUFFICIENT FUNDS" mean?
The Cardholder has surpassed the maximum per transaction amount limit allowed by his bank for that day or does not have enough funds in his account to complete the value of such a transaction.
How do I get reports of all previous transactions?
Reports are available through:
SMS/Email alerts after a successful transaction
What are the charges associated with the PoS terminal for me as a business owner?
0.75% of each transaction amount spent by your customer but this capped at a 1,200 maximum applicable fee.